Continuing Education
Mobile County EMS is pleased to provide these continuing education opportunities that are taught by experienced educators with years of Emergency Medical Care experience.
Register for a Class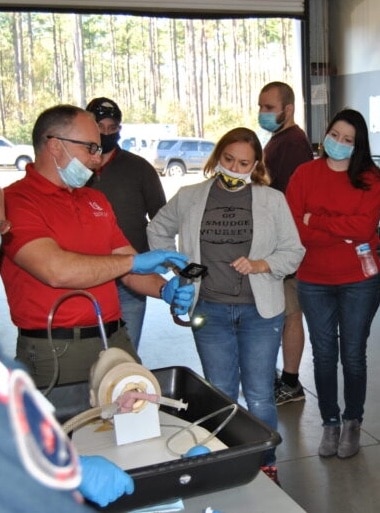 CPR
The AHA's BLS course trains participants to promptly recognize several life-threatening emergencies, give high-quality chest compressions, deliver appropriate ventilations and provide early use of an AED. Reflects science and education from the American Heart Association Guidelines Update for CPR and Emergency Cardiovascular Care (ECC).
ACLS
The AHA's ACLS course builds on the foundation of lifesaving BLS skills, emphasizing the importance of preventing cardiac arrest, early and continuous high-quality CPR, and high-performing teams. The course reflects science and education from the 2020 American Heart Association Guidelines for CPR and Emergency Cardiovascular Care (ECC).
PALS
The PALS Provider Course aims to improve outcomes for pediatric patients by preparing healthcare providers to effectively recognize and intervene in patients with respiratory emergencies, shock, and cardiopulmonary arrest by using high‐performance team dynamics and high‐quality individual skills. The course includes a series of case scenario practices with simulations that reinforce important concepts.
Prehospital Trauma Life Support
NAEMT's Prehospital Trauma Life Support (PHTLS) is recognized around the world as the leading continuing education program for prehospital emergency trauma care. The mission of PHTLS is to promote excellence in trauma patient management by all providers involved in the delivery of prehospital care. PHTLS is developed by NAEMT in cooperation with the American College of Surgeons' Committee on Trauma. The Committee provides the medical direction and content oversight for the PHTLS program.
Advanced Medical Life Support
Advanced Medical Life Support (AMLS) remains the gold standard of education for emergency medical assessment and treatment. Endorsed by the National Association of EMS Physicians, AMLS emphasizes the use of the AMLS Assessment Pathway, a systematic tool for assessing and managing common medical conditions with urgent accuracy.
Emergency Pediatric Care
The Emergency Pediatric Care (EPC) course focuses on critical pediatric physiology, illnesses, injuries and interventions to help EMS practitioners provide the best treatment for sick and injured children in the field. The course stresses critical thinking skills to help practitioners make the best decisions for their young patients.
Tactical Combat Casualty Care
Tactical Combat Casualty Care (TCCC) is developed by the U.S. Department of Defense Defense Health Agency (DHA) Joint Trauma System to teach evidence-based, life-saving techniques and strategies for providing the best trauma care on the battlefield. NAEMT conducts TCCC courses as specified by the DHA-JTS. NAEMT currently offers two types of TCCC courses.
Stop the Bleed
Through our STOP THE BLEED® course, you'll gain the ability to recognize life-threatening bleeding and intervene effectively. The person next to a bleeding victim may be the one who's most likely to save him or her. Take the course and become empowered to make a life or death difference when a bleeding emergency occurs. STOP THE BLEED®. Save a Life!
Emergency Vehicle Operator Course
The Department of Transportation's National Highway Traffic Safety Administration's Emergency Vehicle Operator Course (EVOC) establishes a national standard curriculum for providing the emergency vehicle operator with rules, information, demonstration, and field experience. The Code of Alabama states that all persons driving a ground ambulance has passed the Emergency Vehicle Operator Course or the Alabama Fire College Apparatus Operator's course. * The Alabama Department of Public Health (ADPH) Office of EMS (OEMS) recognizes EVOC as the program the EMS Regions utilize to provide structured and documented emergency vehicle operator course to their EMS providers and EMS Educational Programs.
EMT and Paramedic Refresher Courses
Become a Professional EMS Provider
Are you interested in becoming a professional EMS Provider? Click the button below to fill out an application form today!
Apply today